A Double-Digit Drop in Sales Inventory This April Will Make for a Competitive Summer
StreetEasy has released its April market report, which finds the sales market is building up to a competitive summer season. Inventory has declined in both Manhattan and Brooklyn: There were 11 percent fewer homes for sale in Manhattan than in April of 2016, and 24 percent fewer homes in the Brooklyn submarkets of Prospect Park and Northwest Brooklyn.


Unsurprisingly, the amount of lower-priced inventory fell the most in Manhattan. According to StreetEasy, sales inventory fell the most in Upper Manhattan—the least expensive Manhattan submarket—with 25 percent fewer homes up for grabs than last year.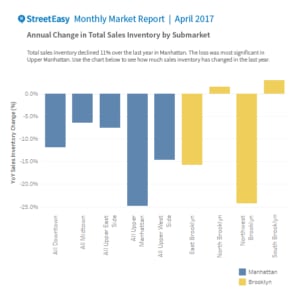 Low inventory also coincides with rising prices. Manhattan resale prices hit a record high, increasing 1.3 percent year-over-year for a median price of $993,592. Brooklyn resale prices also hit a record high, rising 6.3 percent year-over-year to $584,121.


Prices rose the most in Brooklyn's affordable submarkets. In South Brooklyn, the median resale price rose 9 percent to $441,570 and in East Brooklyn, the median resale price rose 5.5 percent to $480,366.


StreetEasy's senior economist Grant Long reports that the increase of demand—especially for more affordable housing stock—is due to ongoing job growth and an increased confidence among first-time buyers. He expects that "low inventory in Manhattan and Brooklyn will continue as the New York City economy remains strong, and will likely push prices higher heading into the summer." Oh, great.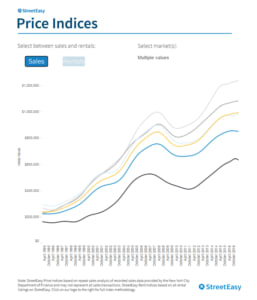 For April, Tribeca boasted the highest asking price of anywhere in Manhattan, at $4.995 million. NoHo followed with an ask of $4.95 million. Northwest Brooklyn had the highest ask in Kings County, at $1.299 million. Ditmas Park saw the biggest change in asking median price across either borough, rising 144.8 percent from last year to $1.285 million. In Midwood, the median ask rose 128 percent year-over-year to $704,500.


Finally, StreetEasy tracked April's rent and found Manhattan rent prices continued to decline. The median rent decreased 1.1 percent compared to last year to $3,232, and has dropped steadily since last fall. Brooklyn rents, too, declined—and they've been going down for eight consecutive months. The median rent price fell 3.7 percent year-over-year, down to $2,785.
Long calls this summer "one of the most favorable shopping environments [for renters] that we've seen in years." Although the summer season is expected to put a little pressure on rents, he expects concessions to continue, especially in neighborhoods with lots of new units like Downtown Brooklyn and the Financial District.